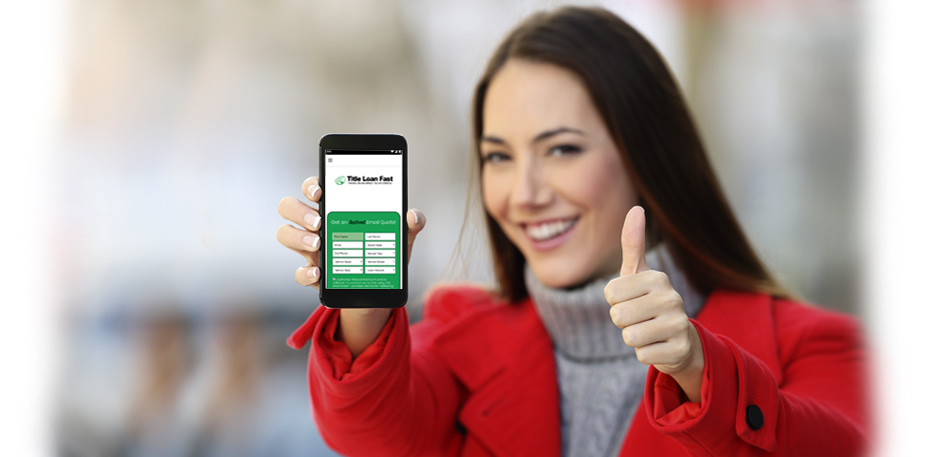 Turn Your Car Title Into Quick Cash!

Applying does not affect your credit score.
"Should I get installment loans against my vehicle title?" If you're asking yourself this question, you may have some unexpected expenses that have come up – and you're likely considering your options for emergency cash.
So, should you choose to get "installment loans against my vehicle title" from Title Loan Fast? Is it a good idea? Find out below.
Title Loans Should Only Be Used for Emergencies
First and foremost, a short-term cash loan option like an installment title loan is intended for use only in emergency situations. For example, if your paycheck is smaller than normal and you need to cover an unexpectedly high utility bill, or an emergency medical cost.
You should not use online title loans for non-emergency situations like frivolous purchases, vacations or gifts, and you should never take out more cash than you need. This will help protect your financial well-being.
You May Want to Explore Other Options for Cash First
If you have a credit card, for example, you may be able to take out a cash advance on the card. You could also apply for a personal loan if you have bad credit, or ask to borrow money from family members, or get a payday advance from your employer.
If you need cash fast or you don't have access to these options, installment loans against your vehicle title may be a good option. It's easy to qualify for them even with bad credit. 
Installment Title Loans Give You More Time to Repay Than Traditional Loans
Traditional title loans only let you take out a loan for 30 days, in most cases – then you have to pay the balance in full. In contrast, installment title loans from Title Loan Fast allow you to repay in 6, 9, or 12 months. You'll pay toward both the principal and interest with each payment, which gives you a bit more flexibility.
Is It a Good Idea to Get Installment Loans Against My Vehicle Title? Yes!
If you need cash fast, an installment title loan from Title Loan Fast is a great option. While title loans are a bit expensive, our loans are easy to qualify for – and with 6, 9- or 12-month repayment periods, you'll have more flexibility. Get in touch now for more details or begin your online application here.