At Title Loan Fast, we offer you an easy option for receiving the cash advance you need. You can take out a loan for any reason you need, without having to explain what you will use the money for.  Depending on your qualifications, you can get up to $5,000 in as little as one business day without leaving the comfort of your home.  At Title Loan Fast, we want to make the experience of getting an online title loan as simple and hassle-free as possible.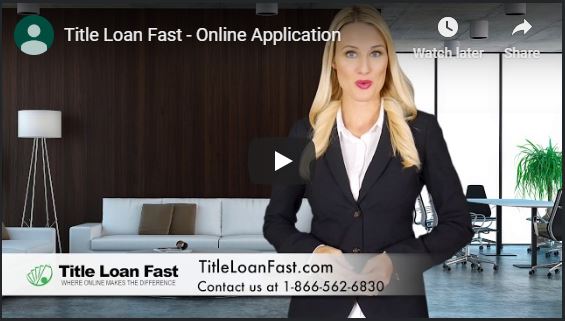 To get a title loan online, there are only a few easy steps you need to take:
First, fill out our simple online application. When you apply, you will need a free and clear vehicle title in your name, proof of residency in the form of a phone bill, a utility bill, or a bank statement in your name, and to submit pictures of your vehicle so we are able to give you an accurate quote. The condition of your vehicle and its mileage will determine the amount of your cash advance, but you keep your keys and you keep your car!
1. Free and clear vehicle title in your name
2. Proof of residency 
3. Pictures of your vehicle
4. Open & Active Checking Account (you must have direct deposit into your checking account)
Once we determine you qualify for a title loan and the amount you are eligible for, you will receive your cash advance in as little as one business day. Title loans are meant to be short term solutions to temporary problems, so we encourage you to pay back your advance as quickly as possible.  As long as you are making the minimum monthly payments, you will keep your vehicle.
Once you pay off the entirety of your principal balance, the lien against your car's title will be lifted and we will return the title to you.
Responsible Lending
Title Loan Fast is committed to giving its customers the best experience possible.  Car title loans are secured by the equity in your vehicle. This type of loan is not intended to be a long-term solution. Loan repayment periods can range from 6 to 12 months.
Get an

Instant

Email Quote!