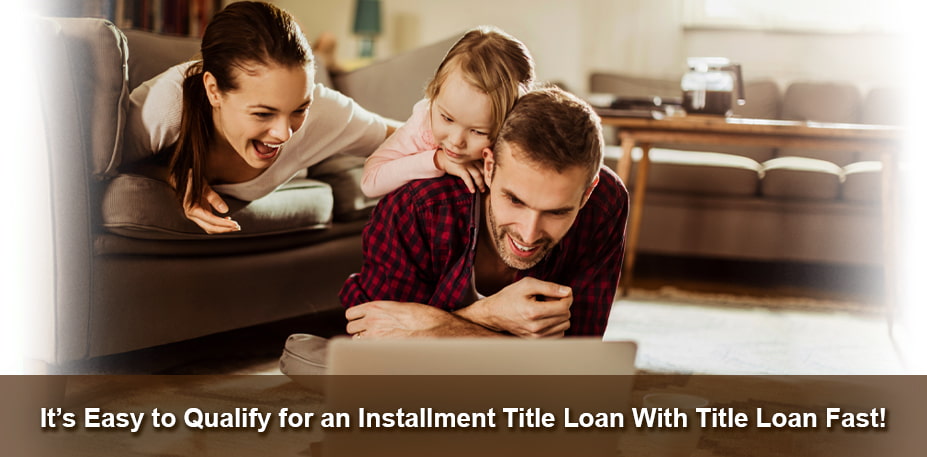 Step 1:
Apply Online
When you apply, you will need a free and clear vehicle title in your name
Step 2:
Inspection
Send images of your vehicle so an inspection can be completed
Step 3:
Get Approved
Your application will be reviewed and once approved...
Step 4:
Get Your Cash
Your funds will be deposited into your bank account
Looking to get guaranteed installment loans for bad credit from direct lenders only? Title Loan Fast is here to help. As a direct lender, we can provide you with fast, simple installment title loans online – at industry-leading rates.
Best of all, your credit score doesn't matter at Title Loan Fast. Read on to learn more about why we're the best choice for installment title loans online.
Title Loan Fast Is a Direct Lender – Not a Middleman
Some title loan companies are not direct lenders. They act as middlemen, connecting borrowers to lenders who provide them with the actual loan. This can complicate the application and approval process, put your data at risk of exposure, and lead to longer approval times for car title loans.
But at Title Loan Fast, we're a direct lender. That means that we are responsible for processing applications, issuing loans, and collecting repayment. We do it all – so there are no middle-men or third parties.
We Offer Installment Title Loans Online
Traditional title loans are usually repaid in full within a month of borrowing. But if you need more time, Title Loan Fast offers installment title loans online. In this type of title loan, you repay the full amount of your loan, interest, and fees over a period of 6-12 months.
This provides you with more time and more flexibility – you can repay your loan over time in smaller monthly payments, rather than all at once.
We Offer Nearly-Guaranteed Approval If You Meet Our Requirements – No Credit Checks!
There's no such thing as a 100% guaranteed loan, but if you meet our minimum requirements at Title Loan Fast, you will likely be approved for your loan – no matter your credit score! To get approved for a loan, you must:
Have a paid-off (free and clear) car title in your name
Prove that you are employed and/or have a monthly income
Prove your current place of residence
Provide us with a few photos of your vehicle (rather than a physical vehicle inspection)
Have an open and active checking account with direct deposit
If you can meet these requirements, you are nearly guaranteed for approval at Title Loan Fast – and we never run credit checks, so your credit score is completely irrelevant. You can qualify even if you have bad credit, or no credit at all.
Apply Now to Get Guaranteed Installment Loans for Bad Credit from Direct Lenders Only
At Title Loan Fast, you can get approved for an installment car title loan even with bad credit. We make the process fast and easy. You can apply in minutes, and even get same-day approval and cash deposits for your loan. Click here to apply now and get the emergency funds you need.