Step 2:
Online Car Inspection
At Title Loan Fast, we know that you are looking for assistance and we understand that your time is valuable. That is why our Iowa title loan company wants to make your application and approval as quick and painless as possible. The best part is that you can do everything from the comfort of your own home.
Vehicle Title Loan Requirements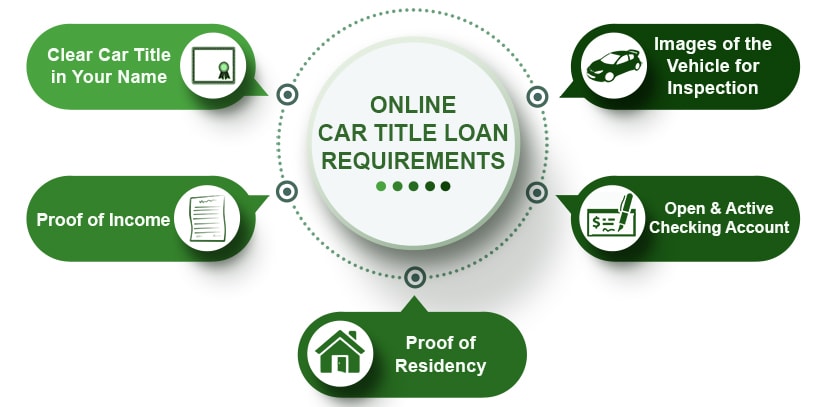 One of the most important Iowa title loan requirements is that your car title is free and clear of a lien and in your name. Your car title will act as collateral, and you get to keep your car as long as you make your payments on time.
Title Loan Fast will need proof of income and proof of residency. Proof of residency can come from a phone bill, utility bill, or a bank statement that shows your name and address.
We need 7 photos of your vehicle to obtain a rough value of your car and determine how much money Title Loan Fast can advance to you.
At titleloanfast.com we will never report to the credit bureau. After your application has been pre-approved, our Iowa title company will have a title loan specialist call you within an hour. You will have your needed funds within 24 hours.
Despite our offered title loan, you need to make sure that the amount you borrow is a comfortable amount for you. We may offer top price, but if you only feel comfortable borrowing a portion, then take the amount you feel comfortable repaying. We will never try to persuade you to take more than you need.
Title Loan Fast Repayment Options
After you have your funds, you will need to create a plan to repay the loan. Title Loan Fast accepts credit or debit cards, money orders or cashier's check, and Western Union quick collect. To make a payment using your card, you only have to sign into your account on Titleloanfast.com and follow the payment prompts. If you do not feel comfortable paying through our secure website, then you can call during our business hours and make the payment by phone. If you prefer paying with a money order or cashier's check, then you will have to mail it into our payment center. We will not accept personal checks for payment. If the previous two forms of payment are not an option for you, you can visit your closest Western Union location to send a payment.
Title Loan Fast is open Monday through Friday from 9 a.m. to 7 p.m. and on Saturday from 10 a.m. to 5 p.m. If you need assistance in applying, making payments, or if you have other general questions, you can call 1-866-562-6830 or email [email protected].
A title loan is a short-term loan and is not meant to be a long-term solution financially. You should only borrow money that you feel comfortable paying back within 30 to 90 days.
Even if you borrow the money to travel the seas or across the country, Title Loan Fast is a company who cares and wants to help you financially.